Closing Ceremonies
All things end, sadly. Kumoricon goes out with good news, though. There were over 400 attendees in total; all debts have been cleared.
There were some questions about industry guests for next year; the staff are working up some. (There would have been some this year if not for the thanksgiving weekend.) Next year we'll have three days worth of Kumoricon!
New con chairs will be needed; the insane can apply at the site .
Thank you all for coming to the con and/or reading this site. I've had a blast. I'll try to post updates of news for next year, and see you all next time.
Posted at 9:30:10 pm (2452974.60428) [/kumoricon/] #

The end of the cosplay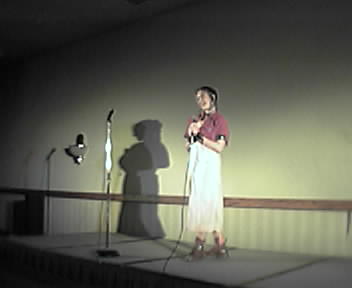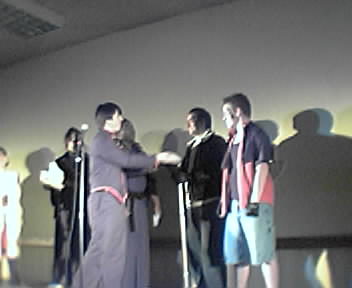 During the judging, we also had a rap on the size of Cloud Strife's sword by the lovely Aeris.
Highlights of the awards: best costume award to the ladies in latex (third to the Azumanga girls, who also got the Young Cosplay award, and second to Chi). Best musical number to the Sailor Moon girls.
Bakazoku's Bam! Banana Bread award to the Final Fantasy 8 bunch.
Best of show to the taker of the Bakazoku Challenge, Boxing Glove Super-Saiyan Back-flipping Lupin.
Posted at 9:05:34 pm (2452974.58720) [/kumoricon/] #

Bakazoku *OWNS*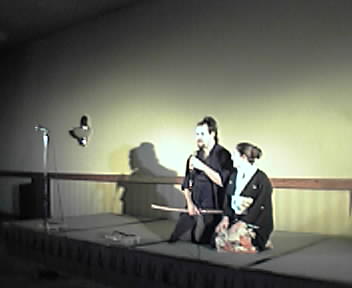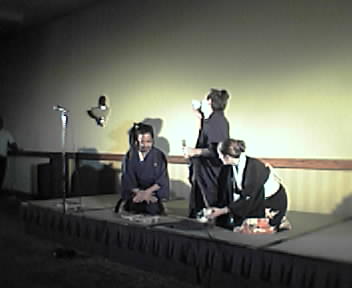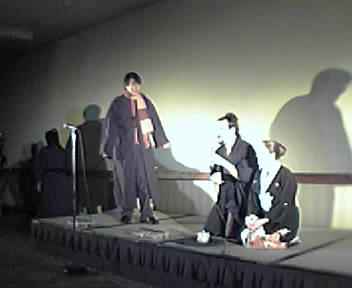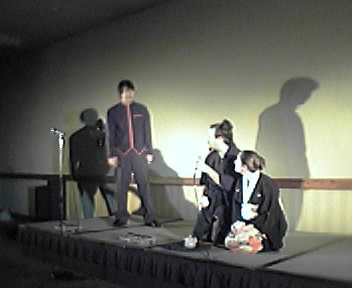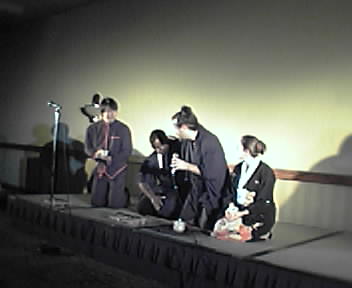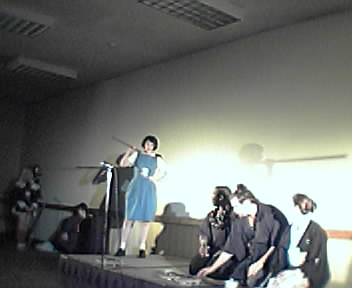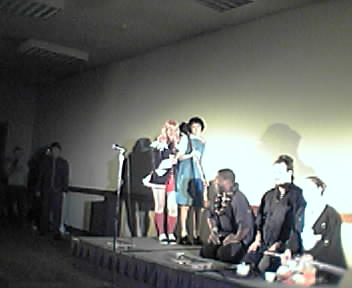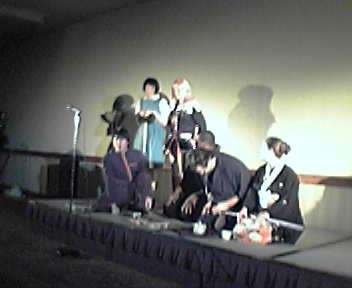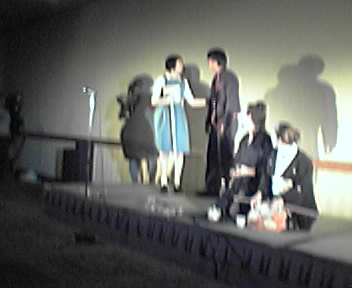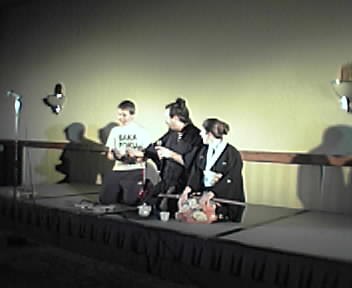 Bakazoku's performance, during the judging. Tradition owns!
Posted at 8:30:17 pm (2452974.56270) [/kumoricon/] #

Cos-play by Play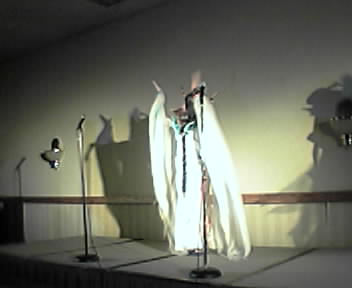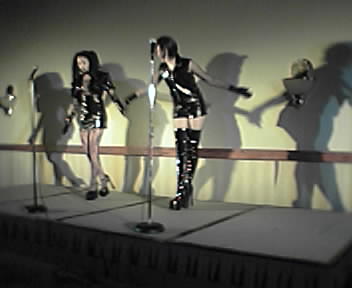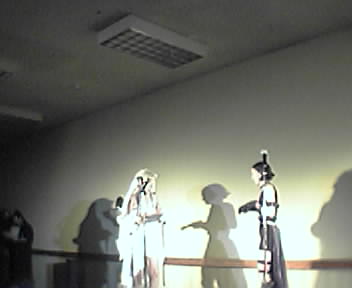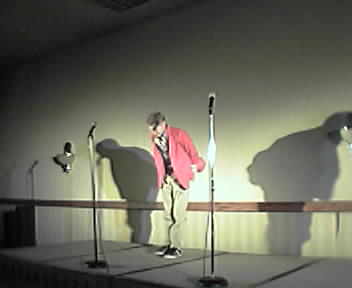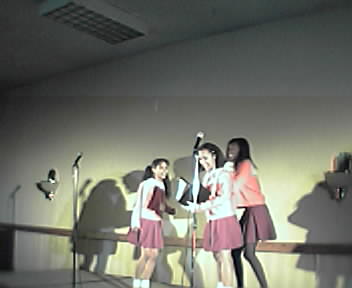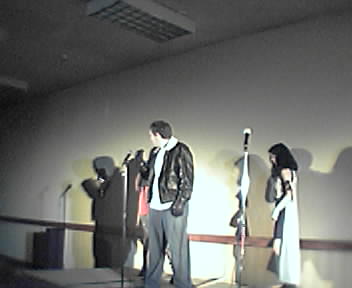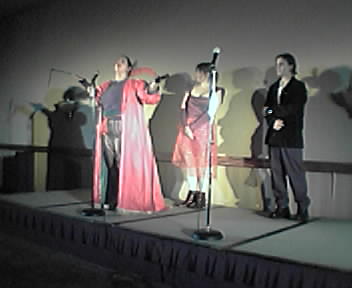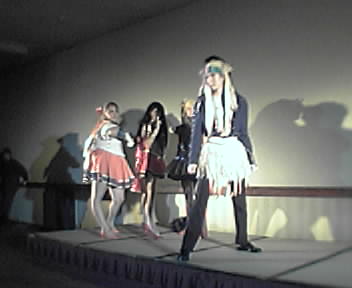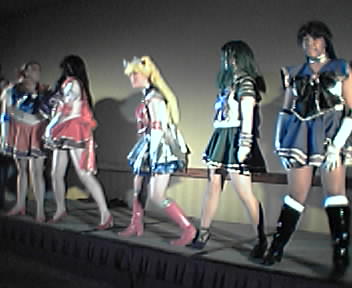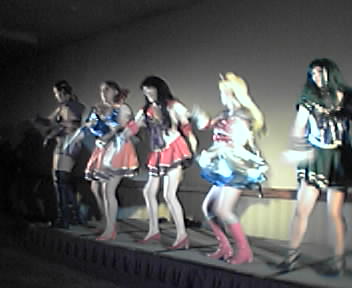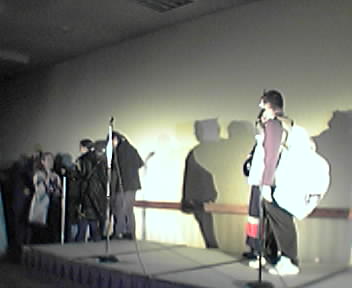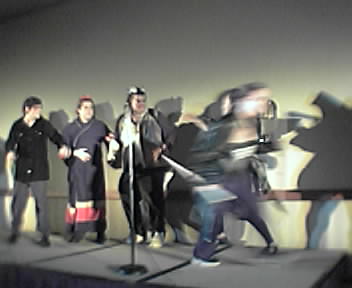 Much fun. The contestants.
Posted at 8:25:48 pm (2452974.55958) [/kumoricon/] #

Anguish of Snails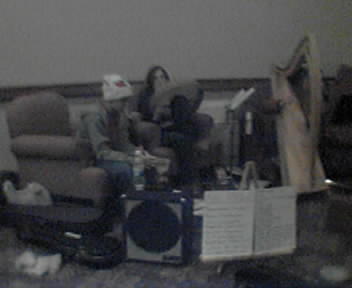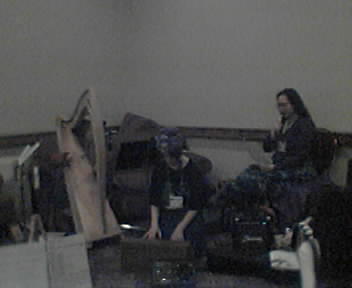 A nifty little band playing here in the lobby. They're playing anime songs and taking requests. (You can book them for your events; contact lee_6424@yahoo.com ).
Posted at 6:25:37 pm (2452974.47612) [/kumoricon/] #

Music Videos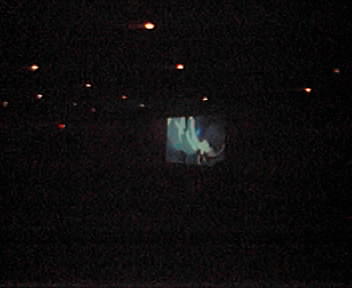 The ever-popular Anime Music Videos. Also a packed house, with Evangelion-based videos prominent as usual.
Posted at 6:20:32 pm (2452974.47259) [/kumoricon/] #

Live Action Sailor Moon Slumber Party
Sailor Moon has remained popular in Japan despite ending in 1995. So a few months ago appeared the new live-action series to finally destroy that popularity. I kid; It's actually a lot of fun, though assuredly not to be taken seriously. It combines the goofiness of Sailor Moon with the goofiness of the sort of live-action series that got crunched into Power Rangers.
The power of the internet has been generating fansubbed episodes of the series within a week of the Japanese airdates, so we've got seven episodes of the show plus a Making Of. Beth (my wife, in the interests of full disclosure) decided an event for non-dancers would be good, so it's the Sailor Moon Pajama Party. Had quite a packed room, though it's thinned out a bit now nearly three hours in.
Posted at 1:50:24 am (2452973.78500) [/kumoricon/] #

Karaoke contest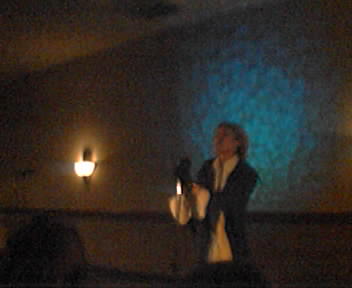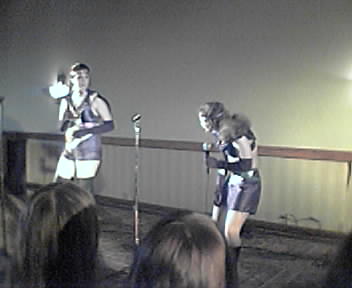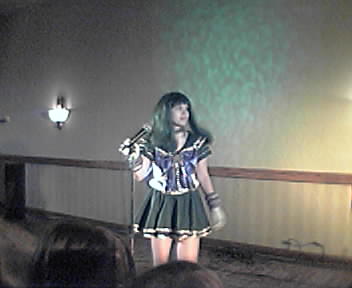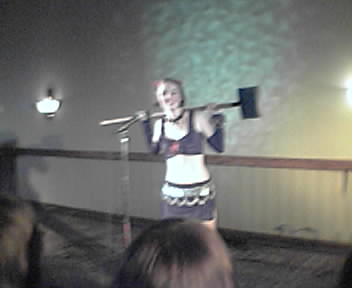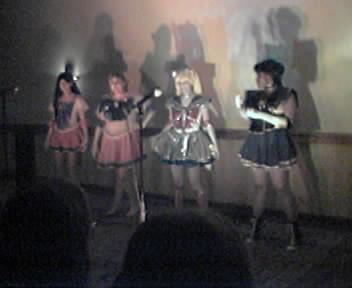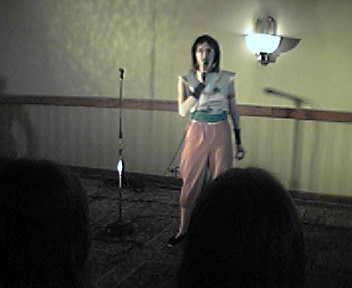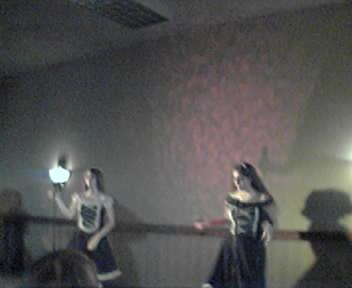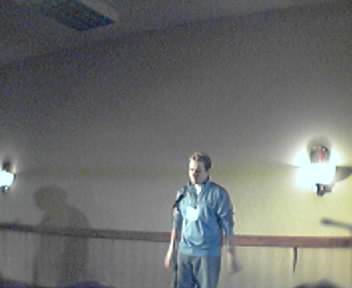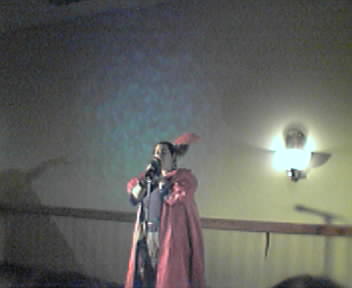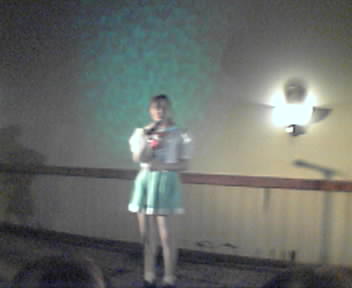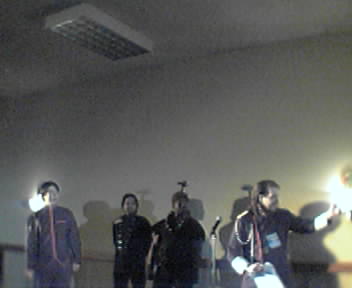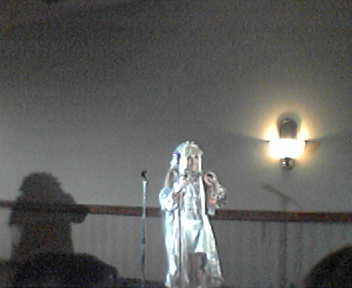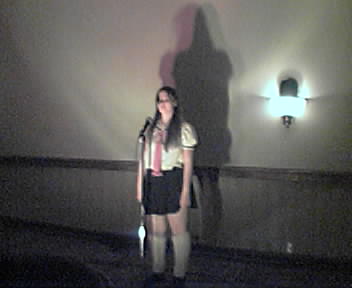 There was quite a line for watching Karaoke. (I managed to slip in early; the press hath its privileges.
Note to karaoke contestants: make the extra efforts on acquiring proper vocalless accompaniments--it's almost impossible to judge, or even hear, your singing over the professional vocalist, and really, there's rather a lot available as far as karaoke tracks for anime music goes. I don't want to be down on those singing along, but it does detract from the performance.
Posted at 9:25:39 pm (2452973.60115) [/kumoricon/] #

Pixy stix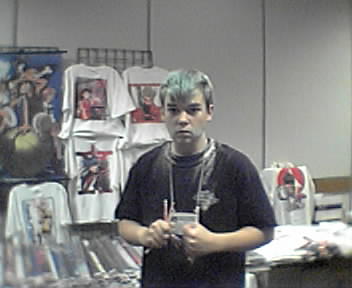 Kids, be careful with your pixy stix addiction.
Posted at 7:20:42 pm (2452973.51437) [/kumoricon/] #

Anime viewing
Viewing rooms are always a big part of an anime con, and this one is no exception. I went to see Gunslinger Girl, the story of young girls turned into cybernetic killing machines. It's well animated, but slow-moving; most of the second episode seemed to be a recap of the first. Not highly recommended, but probably worth a glance.
Posted at 5:50:27 pm (2452973.45170) [/kumoricon/] #

Art Show and Auction
There are some nice pieces in the art show; some gorgeous cut-iron sillouettes, some prints, some nice original work. Of course, I can't take pictures; there's a no-photography policy.
So if an art show is blogged but not photographed, does it... Actually, that parody is kinda bad. Never mind.
Posted at 3:30:10 pm (2452973.35428) [/kumoricon/] #

Opening Ceremonies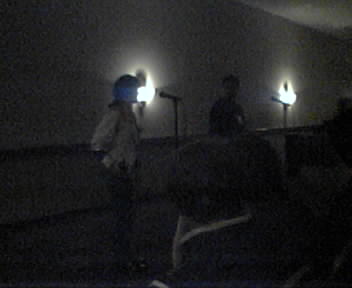 Highlights: First con in oregon (Big cheer)
"Started 8 months ago, when we realized we were all crazy"
Did this instead of invading asia.
Area shouts- lots of people from local and other parts of Oregon, many from Washington, several from California, one guy from Texas, even.
Bakazoku were introduced.
They'll do an 11am 'enjoy your cosplay' panel on Sunday.
They enjoy being here, even passing through the Storm of Doom.
Joe gave the sage advice to avoid giving sardine-flavored bertie bott's every flavor beans to the motion sickness-stricken girl next to you.
Much made of the small-con feeling.
Reminder of good behavior, with a quick "glomping don'ts" demonstration by Chris and Joe.
Posted at 2:26:01 pm (2452973.30973) [/kumoricon/] #

Saturday Morning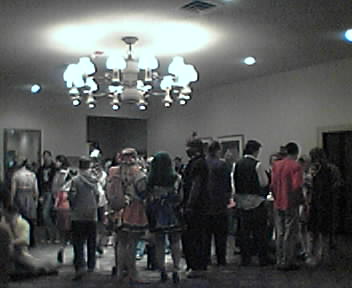 The only event open so far is the video gaming, which is already packed. There's a terrific turnout, it seems. Lots of people, lots of cosplayers... And it's still early.
Posted at 1:56:11 pm (2452973.28902) [/kumoricon/] #

Onigiri is yummy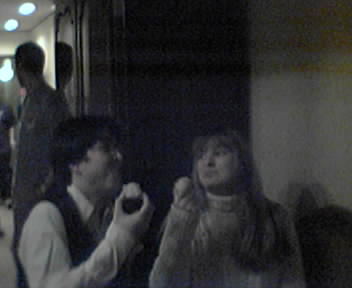 Mmm. Beth picked up a bunch of onigiri and miso from Sakura, the Japanese restaurant near campus. Joe and Lizzie seem to like 'em.
Posted at 9:45:25 pm (2452972.61487) [/kumoricon/] #

Some Assembly Required
For those just joining us, I'm Taper Wickel, your weblogger for KumoriCon. I'll be attending as many events as possible, reporting my incredibly subjective opinions as I do.
We're here at the last con meeting. The equipment is being assembled, the awards prepared, the snacks being eaten.
The thing opens tomorrow morning. (Pay at the door, $15 per day and $25 for a full-con pass.) People are becoming increasingly frantic. This should be fun.
Posted at 8:50:33 pm (2452972.57677) [/kumoricon/] #

Pocky for sale!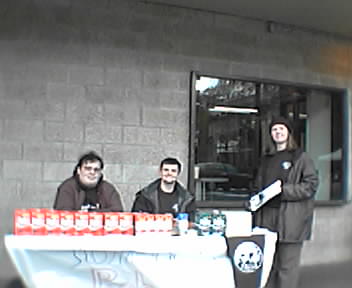 Mmm, pocky.
Posted at 4:30:11 pm (2452965.39596) [/kumoricon/] #

A test entry
A sample entry for the new Kumoricon blog . Most entries will be fairly short.
Posted at 1:52:09 am (2452964.78622) [/kumoricon/] #